iiiiiiiiiiiiiiii pod
After 11 months, my ipod mini was dead yesterday. I'm not sad at all cos my brother+dad+mom got me a new one. What's more is my brother drew me a find-ur-ipod card, which I love very much. Well, "To every thing there is a season, a time to laugh; a time to mourn; a time to dance; a time to get; and a time to lose; a time to keep; and a time to cast away."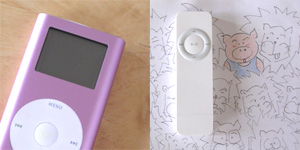 Still trying to rebuild my playlist, here is what I got so far:
Miss misery - Elliot Smith; Silence all these years - Tori Amos; Sound of silence - Simon and Garfunkel; Torn - Nataile Imbrulia; Sitting, waiting, wishing - Jack Johnson; Fix you - Coldplay; Shape of my heart - Sting; Another day - Lene Marlin, Never be the same again - Mel C

There is a seaon you feel really blessed. Just want to give a big hug to my (((dad+mom+sister+brother+friends))).