Keep Looking, Don't Settle
Back to work after a break, it's time to get some serious job done. Work was a bit hard this week but it's over already. Sometimes I'm still not sure about accepting and declining jobs. It gets me to think about the inspirational speech made by Steve Jobs.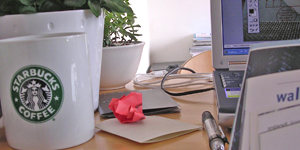 "Sometimes life's going to hit you in the head with a brick. Don't lose faith. I'm convinced that the only thing that kept me going was that I loved what I did. You've got to find what you love. Your work is going to fill a large part of your life, and the only way to be truly satisfied is to do what you believe is great work, and the only way to do great work is to love what you do. If you haven't found it yet, keep looking, and don't settle. As with all matters of the heart, you'll know when you find it."

I feel really blessed that I'm doing what I love. So, I'm ready for another week of new challenges.