man of reason vs man of faith
Here are the books I finished lately:

Mr Nice by Howard Marks
Digital Fortress by Dan Brown
The Traveler's Gift by Andy Andrews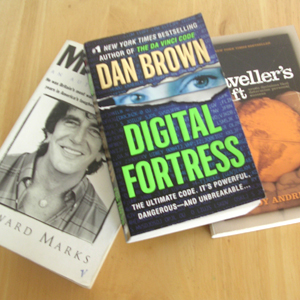 Mr. Nice is the autobiography of Howard Marks. After finishing his education at Oxford, he became a drug dealer and ended up serving seven years at a State Penitentiary in Indiana. I don't really enjoy it. There's nothing interesting about how a person ruined his life.
Digital Fortress is a MUST read. It is also about code breaking but better than The Da Vinci Code, especially the ending. I like the writing style of Dan Brown. He always keeps each chapter short. He allows different story lines to develop at the same pace, and his books are always well-researched.
The Traveler's Gift (the seven decisions that determine personal success) is the kind of self-help book that like Who Moved My Cheese. I don't particularly like parables teaching you how to change your life. But this one is not that bad. One of the seven decisions is about the difference between a man of reason and a man of faith.

"Faith will always be a sounder guide than reason because reason can only go so far - faith has no limits. I will expect miracles in my life because faith produces them every day. I will believe in the future that I do not see. That is faith. And the reward of this faith is to see the future that I believed."

DEEP...